I kinda hope there aren't any bees around, being I'm allergic. But, if they come to help wind yarn and thread, keep their little stingers to themselves; I won't shoo them away. Real help, not like the kind the cats are giving. "Oh, that big tangle of yarn/thread is attacking Mom! Let's get it!" (pounce)
The sale I had on
eBay
went well. Not as good as I had hoped, but better than I expected. So, I'd say I'm ahead of the game. DBF and
I discussed it, and decided to do it again lasting til September 18th. He upgraded me to a store. So now, to start contacting manufacturers or mills about buying in bulk. Hope we raise enough money to do that soon.
I'm a little disappointed the thread is going better than the yarn. Just a little, I like dying the thread better, it takes the dyes clearer. My mom wants in as a silent partner. We spent three evenings driving from store to store buying crochet thread. Have to find a manufacturer to buy it in bulk.
What's hard with the yarn is trying to figure what colors other people want. I know what colors I like, but it's hard to guess what will sell. We had 35 hits on eBay through my blog. (Yeah, having a store, it tells me that too. LOL) I know you're out there, maybe reading, could you please a comment about what colors you like? Threads sizes, sock yarn, worsted wt yarn? Please.
It's really good that things are picking up. Makes me feel productive. Almost like working a real job. Except, you know the showering, dressing and long commute to a business every morning are skipped. Well, not so much the not showering, that would get smelly, but I can do it on lunch break. Imagine skipping the showering and dressing part, and telling your boss you're going to do it during lunch break.
I miss nursing, though. I miss the people. It really lifted my spirits to help someone, with the little things. Like a water glass was set across the room, where they couldn't get it. Because, they couldn't get out of bed and walk. Bringing water to a thirsty person, while silently cursing the aid that left it out of reach, made a difference. That's what I miss, being able to make a difference in someone's life.
On to knitting stuff. I haven't made much progress on Mom's Soleil.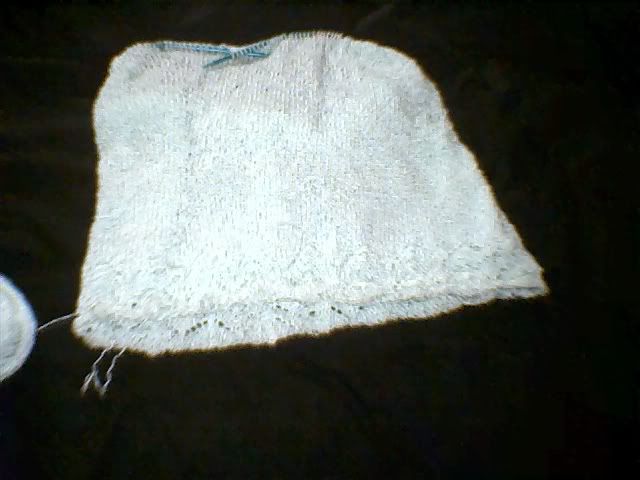 I have a little bit more on the shawl. I'll take that picture next time. I've been mostly knitting swatches for sock yarn. Those are simple scans. (click for bigger)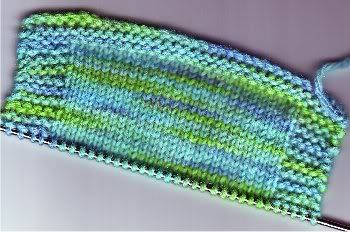 I was tagged for a Meme by Knitting Nurse. It was 23rd post and 5th sentence. Ahem. I don't have a 23rd post yet. I suppose if I was a good blogger I would have by now. LOL But, I digress. So, I did 5th post and 23rd sentence. The beauty of being long winded, I suppose.
I try to leave screaming kids at home, so they don't destroy the nerves of other people. That's me alright, I can't stand screaming kids in stores, mine or others. Tiny babies are alright, they can't help themselves. But temper tantrums, no way, I'm outta there.
Watching all the victims of Katrina, makes my heart just break for them. I know what it is like to lose everything, or almost everything. The things that can't be replaced. Pictures, photo albums, ornaments and trinkets. Patterns that are out of print. Finished projects. I bet some of them were knitters, quilters, crocheters, cross stitchers, etc.
Sure, if they can get the same patterns and materials they can make them again. But the chances of that on some things are slim. The memories attached to those items wouldn't be same. Possessions with memories attached to them. Those are the "things" that are the hardest to lose.
I'm donating 10% of this sales profits to the Disaster Relief. Probably, Salvation Army, as they have been a help to me in the past. I'm also going to go through some of my stash and see what I can donate of that. There is a thread on a message board I frequent, 123 Stitch, a member is going to the shelter in Terrebonne Civic Center. Many of us are sending her supplies to take with her. If you would like to donate you can e-mail Nona La at aamcn@cajun.net. She gave me permission to post her e-mail address. Even a skein of yarn and some knitting needles or crochet hook could make a world of difference to a fellow stitcher who just lost everything.
Until next time, happy needlework.