This is just a quick post, to say I'm still alive. It seems when you start a draft post and finish, say several days later, Blogger posts it as the day you started it. Meaning that last post was finished on the 16th, started on the 11th. GRRRRR
I've been writing a post for several days last week, it's still in draft form. I'm going to have to copy, paste and start a new one. I want my blog to be in order. It's sort of a controversial topic, just a preview hint.
So, as for the title, I thought things were starting to look up a bit. I'd been getting calls from the kids that things were going well for them too. I thought it was safe to relax. Until late Saturday night, the phone rings. When the phone rings here late at night, it's either a prank call, wrong number, or something is WRONG. It was the latter.
My son that had just moved out, and had been doing ok. So much so, that his father let him take his younger brother over to stay with him every once in awhile. His GF had called. They were both in the hospital. Her from smoke inhalation, my son from being hit by a car while on his bike.
It seems he went to get dinner, and was hit by a car, which took off. He was able to make it back home. Only to find, his apartment was on fire. Apparently, one of GF's friends lost a lit cigarette in their couch. GF had been in the shower and came out to find the living room in flames. No smoke detector, I found out later. Seems the better apartment, GF's mother got them was nothing more than a slum lord in a bit better neighborhood.
They are both ok, and staying with my ex, until they can get help from Red Cross and DSS. DS and his GF stopped by Tuesday afternoon. He knew I would be sick with worry. Which I was, the weather and stress made my back feel like it was broken, and migraine headache until yesterday afternoon. I'm better now, trying to let go of the stress and saying a prayer for them.
It was so much easier when they were little, a kiss and a cookie would make things better. I could control who they hung around and where they went.
What made it worse, was 8 years ago, on July 23, our family went through a fire. We lost 80% of our belongings, thankfully everyone was safe. My kids were 14, 12, and 7. Their father had just abandoned us, January of that year. My youngest was staying with ex-MIL. I was at work at the time. Woke up not feeling well, and had considered calling in. I wish had.
My son, 12, decided not to go to summer school. So he and his sister fought all morning. She called me at work every half hour about some silly fight after another. The week before, DS had moved his bedroom down to the basement, against my permission. His grandma (ex-mil) had given him a clip on lamp that the clip was broken and she couldn't use. (She should have thrown the garbage in the garbage.) Well, he stuck it in the drop ceiling, over his bed. Do you see where this going?
He left his lights on and went upstairs to watch TV. When he went to go back down to the basement, smoke was coming from under the door. DD made him go outside, while she took the dog out, and removed the rabbit cages. Then, they went next door to call 911, and me at work.
I remember it was like the fourth call that morning. Frustrated, I told the secretary it had better be an emergency. All DD said to me was the house is on fire and hung up. When I tried to call the house, to make sure she had called 911, and gotten out, all I got was a busy signal. Because by that time the fire had taken out the electrical wires. They had the chaplin drive me home.
When you go through something like that, at first your just glad and thankful everyone is safe. Later, after you go in to see your life of possessions gone. Pictures, Christmas ornaments; everything. Your whole life gone. You're still glad and thankful to God everyone is safe, but it's hard not to mourn the lose of life's possessions that can never be replaced. Yes, I've been having flashbacks.
On a happier note, the knitting front. I got a package last week, well a few of them. One was
this
in Turquoise Splendor and
this
from Knit Picks. I'm already on row 101. I have an idea for a pattern for a Faroese Shawl, but never made one. I'm making this one to get the feel for the shape of it. The yarn is soooo soft, but the colors aren't quite what I would call Turquoise Splendor. It's a royal blue, deep teal green (more green than teal) and lt. turquoise. I'm getting some major striping and pooling. It's ok, will make it more interesting. I thought the yarn would be more light, medium and dark shades of turquoise.
I have two of Soliel going at once. One for my mom's bday last week, in this
Silky Look
. I didn't buy it from the link listed, they just had the best picture to link to. My favorite yarn shop went out of business several years ago, I bought the last ten skeins they had. *sigh* That was the only color they had left.
I'm on the last increase repeat. Don't care for the way the instructions are written after that point, so I'm going to fudge the rest. Um, my mom is really busty and doesn't need that low of a neckline, especially in a V pointing them out. LOL Also, thinking about tatting some trim in either white or a variegated mint to go around the neckline.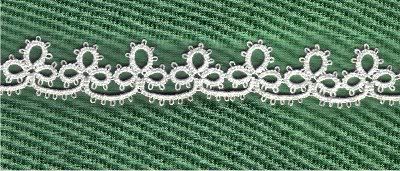 Hey, it's a picture. Click for bigger. I don't have the mint made up yet. That's a scan of some lace I sold on eBay. I would of course have the rings pointing down. What do you think?
I had comments on my last post. From
Micky
, yes, with the busy summer, the chronic pain and sharing the PC with DBF, I have a hard time keeping up with all the blogs I want to read as well. Seems, I'm always finding more blogs that are interesting.
Also,
Life's A Stitch
, I've had a TENS unit for about four years now. Sometimes it helps a little bit, but after awhile it irritates the nerve and mostly feels like needles pricking. Yes, I've played with the settings, but once it gets like that, it's just best to take it off.
I just realized I can change the date of posts down on bottom of the post. Duh! I wonder where my brain goes sometimes. Well, this was supposed to be a quick post and I rambled on, as usual. Now that I'm feeling better, I'm going to hunt down that
battery sucker
digital camera and take blurry knitting pictures. Will try to have them up tomorrow or the weekend.
Also, only if you're interested, check out my
eBay
listings. I'm having sort of a end of summer sale from now till September 7th. Free shipping for three skeins of fingering wt and lace wt yarn, or five skeins of crochet cotton. Plus, I have five and half pounds of heavy worsted wt, I'm going to try to skein up and dye. I think that would be best for totes, maybe hats or afghans. Free shipping for four skeins of that. Will start listing stuff tonight and ongoing till next Wednesday for the somewhat sale.
Well, enough of my rambling. Until next time, happy needlecrafting.