That's an age old question, one which I bet 95% of the population would like an answer to. There are tons of time management books written on the subject. Plus, all the inventions that have been created to give us more time. But, we seem to have less of it.
Think back to just a hundred years ago, how long it would take women to do the weekly laundry. *shudders* Um, maybe not. That's why too much work. There is a reason why there is an age old saying, "The greatest thing since sliced bread." I'd hate to think of have to bake the daily bread back when I had three teenagers in the house.
So many gadgets to save time, tons of books meant to help organize it, yet we still want more hours in the day. Atleast, I do. What I really want is more productive hours in my day, that are less painful.
The
ebay
store has finally hit my weekly goal in sales for the past two weeks. We have recently opened a second store on
etsy
, for those that don't care for ebay. It's basically come down to maintaining and increasing production.
I'm purchasing my
spinning wheel
the 20th of this month. Actually, I want the pedal pusher model to help exercise my legs, as it's hard to go for walks in bad weather. I really need a wheel just to ply all my spindle spun singles. Plying, even on my large 36" cd spindle is just a pain, similar to chronic severe pain episodes and in the same body region.
I dyed a little over a pound of this merino/tussah to make my mother a sweater. I figured out how to greatly limit handling the wool during the rinsing process, thus limiting some of the slight felting that happens, so it's spins up like the natural undyed product.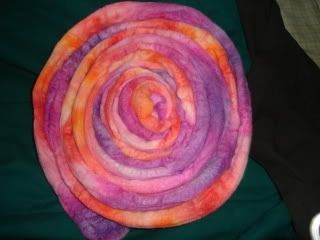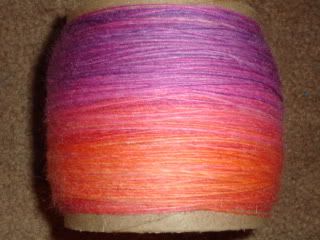 I also finally finished my mom's sock. I'm knitting it with my Desert Sunset and Robin's Egg for the heels and toes. Yes, I did cast on right away for the second sock. Butterscotch is inspecting the progress.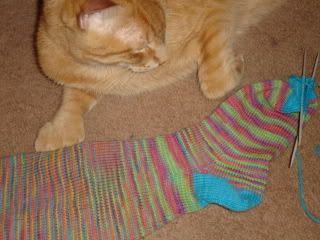 I do have a few other things in the works, but I'll save those pictures for another time. If you could do me a small favor and let me know in the comments what colors/yarn type/fiber you would like to see made. It will be helpful to find out what people are looking for.

Happy needlecrafting.