We're down to one computer, yet again. Since, DBF has tomorrow off, I figured I would post today, rather than wait until Saturday, when he is back at work. Even though it's his computer that is down, I'm nice and let him have first dibs when he's home.
Since it seems spinners are rather scarce in my part of the woods, plus the lack of transportation, I've been trying to teach myself how to spin. Although, I have found what seems, might possibly be, a spinning shop very close by,
Fine Fibers
. They are only open on Saturdays and by apointment, according to the phonebook. Looks like I'll have to ask the "Mom" for a day trip. LOL
Further investigation, I just found
Cloverleaf Farms
. Also, in Spencerport, the next burb to me. Found on the
Genesee Valley Handspinners Guild
website. Their meetings are held in Victor, and that's way on the other side of the county. Much out of the question for transportation.
So, as I said in my last post, I've never known or seen, in person, someone actually spin. I've had this on my "want to learn" list for awhile. Disabled be damned, I want to start crossing some things off my lists.
DBF and I constructed this makeshift spindle for me to start with. That's Tussah silk single on there by the way.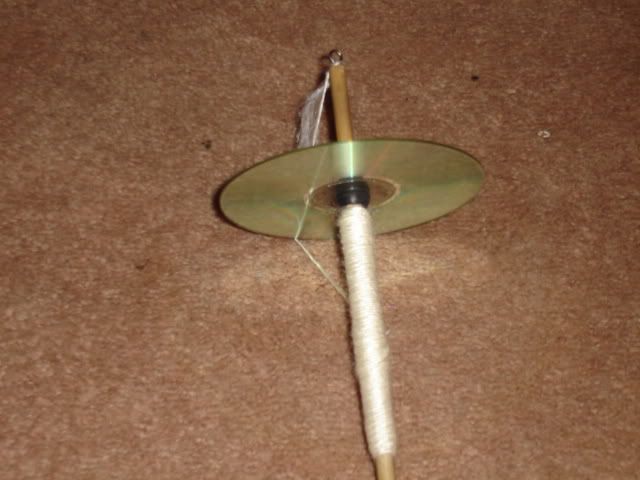 Why didn't you just buy a good spindle? Because, sometimes I'm just cheap ass, that's why. I do however, have this planned Golding Ring, for my 40th birthday in a few months. The solid cherry one.
The spindle waited for my pound of Merino top to come in the mail, and the day it arrived, I ripped carefully open the package. First thing I thought was it looked like a giant wool intestine. Once a nurse, always a nurse. That's always my thought when I look at packages of top. I also have since purchased 3 packages of 8 ounces of silk intestines, as well.
I had studied the videos on I Can Spin and The Joy of Handspinning for weeks. As well, I purchased The Whole Craft of Spinning, and read very many informative blogs.
This was back in October, looking back, I wish I had taken notes on my thoughts, most of it seems a blur before the "ah hah" moment when I figured out the beauty of pre-drafting. My first skein I posted yesterday was made right around the "ah hah" moment.
Here are my second and third skeins, made from the merino after I dyed it. They are three ply with the Navajo method.(Click for bigger)
Not half bad, considering I haven't even seen handspun yarn in person before. Needless to say, it even impressed DBF, which isn't always the easiest task. He bought me this and this for Christmas. I loved the wool so much, I had to go buy the other one. It really is so much brighter and nicer in person. I wanted/needed more to make something nicer than a pair of socks. Here is one of the roll of singles.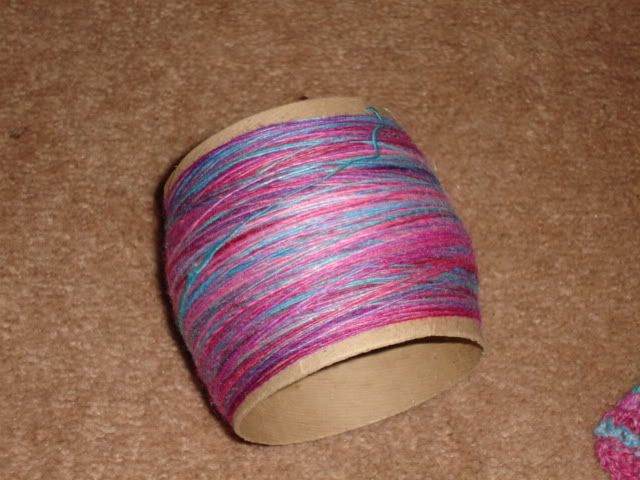 Plus, one of the skeins.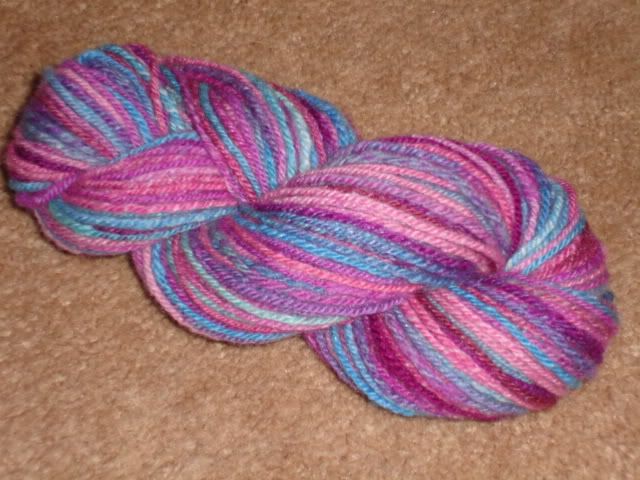 Here is the small sweater, I've started.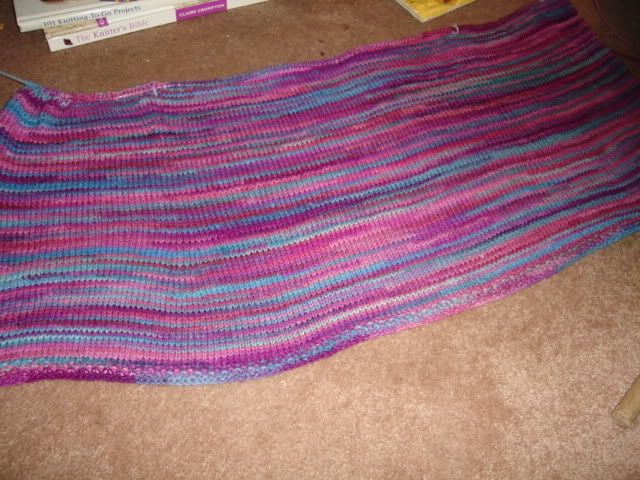 A closer view.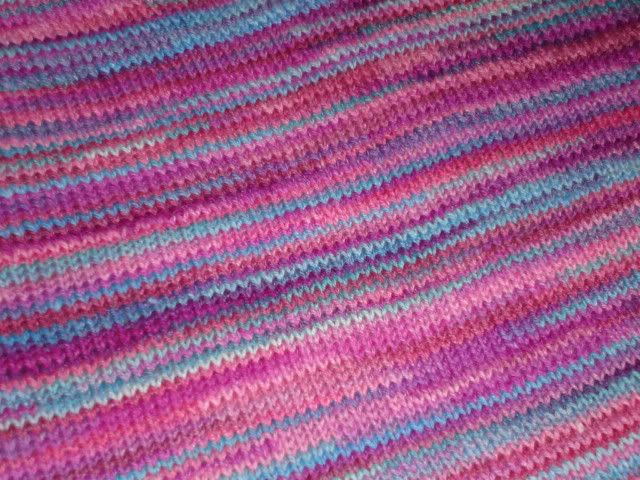 The first batt spun up and Navajo plied to a light sport to fingering weight with about 380 yards. I just have a little left of the second batt, and it seems so far I might get 400 yards. I didn't check the WPI.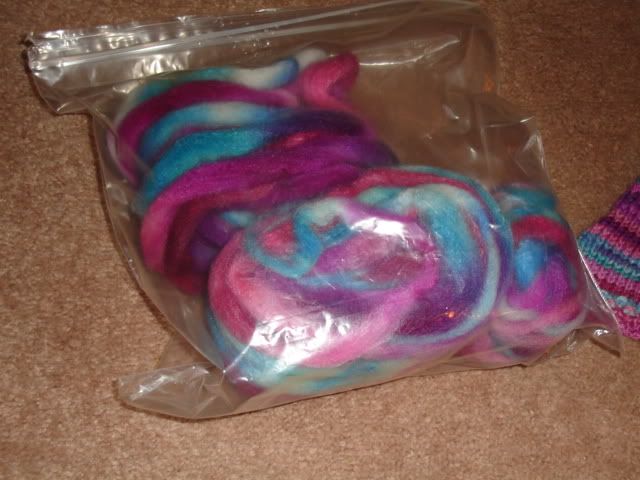 The Tussah silk however is another matter, I'll save for a later post. I'm not too fond of the spindle he bought me, and I just don't have the heart to tell him. It just doesn't hold a spin all that well, and the singles keep slipping off the hook. So, I'm spinning the plain Merino on it, since Merino pratically spins itself.
Well, I need to get into the dye room, and get to work. Twenty skeins of sock yarn came in on Monday, that need to be dyed, plus I still have some size 10 and 30 thread to get after, as well as two large thread orders to send out. Hopefully, it will keep my mind off waiting for UPS to come today with a large box of seven and a half pounds of wool top and new Inox needles. Do you think? Nah, I didn't think so either.
Happy Needlecrafting!